Authors Bob Shinn and Kevin Cook discuss their recently published book,
Along the Cooper River: Camden to Haddonfield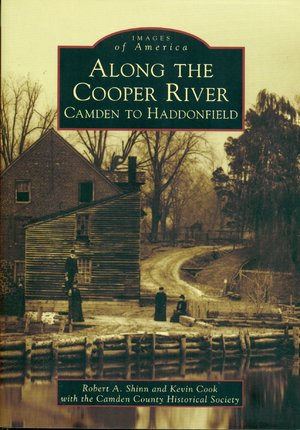 It's no exaggeration to say that the modest waterway we call the Cooper River put Haddonfield on the map. The town was first built near the highest navigable portion of the tidal River, providing a link to the ports of Camden and Philadelphia. Its waters provided power for mills, bringing farmers from the surrounding area to the town. As its role in industry and transportation diminished, its shores provided recreation for thousands and the focal point for a massive park project. This history, and its lessons for the future of the river, has been brought together by authors Robert Shinn and Kevin Cook in the new book Along the Cooper River: Camden to Haddonfield and will be brought to life at the May general membership meeting on May 27th, 2015.
Authors Shinn and Cook were first allied in the fight to save the Wallworth Club House, a 1928 structure that stood as testament to the park's history and was threatened by neglect. Their efforts proved unsuccessful and the Club House was bulldozed by Camden County last year. The fight to save it energized them in their efforts to both recognize the history that had taken place along the Cooper River, and to protect what vestiges of this remained by having the park system lining it declared a Historic District. The book serves not only as a chronicle of the history and a nostalgic look at former sights and pastimes, but as a call to action.
Many local individuals and organizations contributed to the book, including the Historical Society of Haddonfield, and thousands of fascinating images were supplied. The presentation will share many of these in an interactive format, with plenty of opportunity for the audience to share their own memories and knowledge. The authors have presented a series of talks about the book in the area, but each one takes a unique shape based upon the location and the interests of the audience, making it a worthwhile trip even you've previously attended.
Copies of the book will be available to purchase, and the authors will be happy to autograph these or any other copies brought to the meeting. Please join us and your friends from the Society for a journey
Along the Cooper River at Greenfield Hall on Wednesday, May 27 at 7:30pm for an important look at our hometown waterway's past and future.