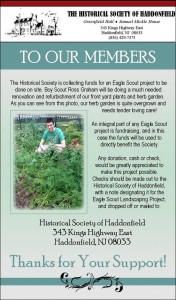 The Historical society is collecting funds for an Eagle Scout project to be done on site. Boy Scout Ross Graham will be doing a much needed renovation and refurbishment of our front yard plants and herb garden. As you can see from this photo, our herb garden is quite overgrown and needs tender loving care!
An integral part of any Eagle Scout project is fundraising and in this case, the funds will be used to directly benefit the Society.
Any donation, cash or check, would be greatly appreciated to make this project possible.
Checks should be made out to the Historical Society of Haddonfield, with a note designating it for the Eagle Scout Landscaping Project. Drop off donations or mail them to: Historical Society of Haddonfield, 343 Kings Highway East, Haddonfield, NJ 08033. Any donation is greatly appreciated!