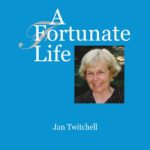 The Historical Society is co-hosting a book launch for Jan Twitchell's new book, A Fortunate Life. The event will be held on Thursday Dec. 7 at 3 pm at Brandywine Living, 132 Warwick Rd, Haddonfield.
Jan began the book as an oral history for the Historical Society, before it turned into a more significant autobiography. She has been a very involved resident of Haddonfield for more than 70 years. Among other things, she served as co-chair of the Dinosaur Sculpture committee and president of Interfaith Caregivers, and was named Citizen of the Year in 2002.
The book is available for $20 at the Historical Society, at Inkwood Books, and online here. Copies will also be available at the book launch.
Proceeds from sales of A Fortunate Life are being generously donated by the Twitchell family to the Historical Society's planned new Archives Center.