The Historical Society of Haddonfield held a groundbreaking ceremony on August 1 for its new, state-of-the-art archives center building to be built on its property on Kings Highway East in Haddonfield.
The Society has raised more than $817,000 in gifts and pledges for the new building and expects to begin construction later this month. The planned facility will nearly triple the storage space for archival collections while incorporating up-to-date temperature and humidity controls and fire suppression system in an ADA-compliant building. Space in the new building will also be reserved for Haddon Township Historical Society archival collections, thanks to a generous gift earlier this year from the William G. Rohrer Charitable Foundation.
"We are so appreciative of all of the community support we have received for this project so far," said Doug Rauschenberger, president of the Historical Society of Haddonfield. "This new facility will be so important for preserving these significant archival collections for generations to come."
Other speakers at the groundbreaking ceremony included Haddonfield Mayor Neal Rochford and Haddonfield architect Eduardo Guzman, president of DCM Architecture and Engineering, who designed the planned new building.
An ongoing challenge grant in honor of past Historical Society president Pat Lennon has brought in an additional $94,000 in gifts and pledges so far this summer. All gifts made in Pat's honor are being matched dollar-for-dollar by a generous donor who worked with her at the Historical Society and admires her greatly.
Donations can be mailed to the Historical Society, and gifts can also be made online. Donors who wish to have their gifts matched must designate that they are giving in Pat's honor.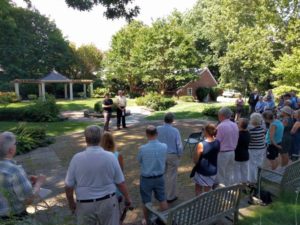 Eduardo Guzman of DCM Architecture and Engineering and Historical Society of Haddonfield Board President Doug Rauschenberger speak to the crowd at the groundbreaking.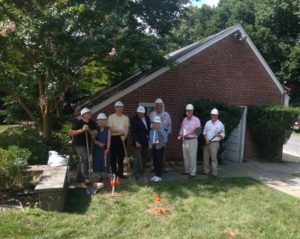 Left to right: Eduardo Guzman, Carol Smith, Doug Rauschenberger, Mayor Neal Rochford, Tish Colombi, Bill Reynolds, Tim Alles, Bob Marshall.