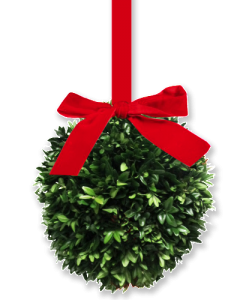 Decorate your home this Holiday season with our fragrant, fresh-cut boxwood balls, each lovingly hand crafted and adorned with a festive red ribbon bow and green plastic hanger.
Two sizes this year: The small ball measures 7"x 9" and costs $20. The large ball measures 8" x 10" and costs $25.00 *They are flat on the back so they can be hung on a door or window.
These boxwood balls are an HSH tradition, available this year by pre-order only. They will be ready for pick up at our Holly Festival on Sunday, Dec. 13th from 12-4 pm or by prearranged pick-up.
DOWNLOAD AN ORDER FORM and mail your check made payable to: Historical Society of Haddonfield to Historical Society of Haddonfield, 343 Kings Hwy. E, Haddonfield, NJ 08033.
Order and pay right here online!