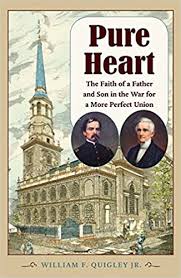 Join us Tuesday November 28, 2017, for a lively Book Club discussion of Pure Heart: The Faith of a Father and Son in the War for a More Perfect Union, by William F. Quigley, Jr.
The book explores the Civil War with the help of a recently rediscovered collection of letters exchanged by a prominent Philadelphia minister and his soldier son.
One reviewer wrote, "Quigley's narrative serves as a microcosm of the larger conflicts both within the Northern home front and across Southern battlefields . . . a superb scholarly work."
We will meet at 7 pm at Greenfield Hall, 343 Kings Highway East, Haddonfield. Light refreshments will be served and all are welcome, even if you haven't finished the book!
After this discussion, we will meet next on January 22, 2018 in a joint meeting with the Haddonfield Public Library book club. We'll be discussing two books at that event: Diary of a World War I Nurse, by Rosaline Ready (email the Society for a PDF), and The Great Influenza, by John M. Barry. We will gather at the Public Library for that discussion.