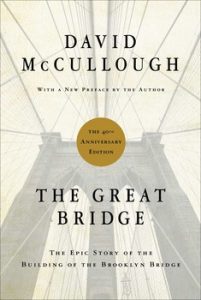 Join us for the next meeting of the Historical Society's Book Club on Tuesday, May 10, at 7 pm in Greenfield Hall. We'll be discussing The Great Bridge: The Epic Story of the Building of the Brooklyn Bridge, by David McCullough.
This enthralling story tells of the building of the world's longest suspension bridge at the time. One critic called McCullough's history "a book so compelling and complete as to be a literary monument."
If you can't make it for this discussion, please mark your calendar now for the next couple books we'll be reading in Book Club. All discussions will be held in Greenfield Hall unless otherwise noted, and all are welcome!
Tuesday, September 13, 7 pm – Alexander Hamilton, by Ron Chernow
Tuesday, November 15, 7 pm – Made in America: An Informal History of the English Language in the United States, by Bill Bryson