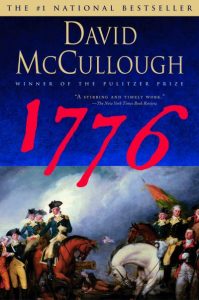 Join us Thursday, January 19 for the next meeting of the Historical Society of Haddonfield's Book Club. This month, we'll discussing the book 1776 by historian David McCullough.
We'll be meeting at 7 pm at Greenfield Hall, 343 Kings Highway East, Haddonfield. Light refreshments will be served and all are welcome, even if you haven't read the whole book!
McCullough paints a compelling portrait of the year of the Declaration of Independence, weaving together events on both sides of the Atlantic to tell a stirring story of war, politics, and idealism. One reviewer called McCullough's book a "stirring and timely work," writing that "McCullough deftly sketches characters with a few quotations and details, humanizing a cast of thousands."
Stay tuned for our spring meeting schedule, coming soon.