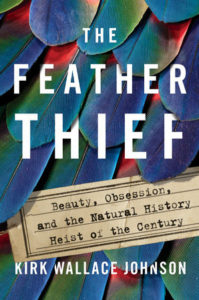 The Historical Society's Book Club will next meet on Monday February 25, 2019 to discuss The Feather Thief: Beauty, Obsession, and the Natural History Heist of the Century, by Kirk Wallace Johnson.
This will be a joint discussion with the Haddonfield Public Library Book Club. We'll meet at the Public Library, 60 N. Haddon Ave., Haddonfield, at 7 pm.
The Feather Thief is a riveting account of how one man stole hundreds of rare bird skins from the British Museum of Natural History, most likely to sell to fly-fishing enthusiasts who recreate Victorian-era salmon flies. The New York Times Book Review called the book, "Fascinating . . . a complex tale of greed, deception, and ornithological sabotage." Publishers Weekly said the book is an "enthralling account of a truly bizarre crime."
As always, all are welcome at our discussion, even if you haven't read the book. Light refreshments will be served.
Looking further ahead, the Book Club will also meet on Tuesday April 16 to discuss Rush: Revolution, Madness and Benjamin Rush, the Visionary Doctor Who Became a Founding Father, by Stephen Fried.