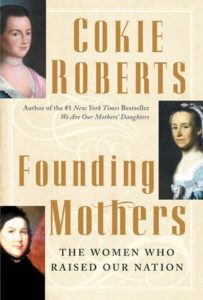 The Historical Society of Haddonfield's Book Club will hold its next meeting on Tuesday March 24, 2020 to discuss Founding Mothers: The Women Who Raised Our Nation, by Cokie Roberts.
We'll meet at 7 pm at Greenfield Hall, 343 Kings Highway East, Haddonfield.
Roberts uses correspondence, journals, and other writings to explore the lives of women like Abigail Adams, Deborah Read Franklin, and many others who helped ensure the success of the American Revolution — mothers, wives, sisters, and daughters who worked both behind-the-scenes and very publicly to support the new country.
As always, all are welcome at our discussion, even if you haven't read the book.