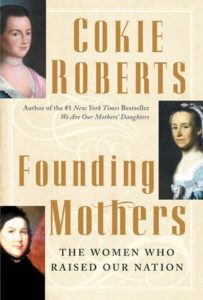 The Historical Society of Haddonfield's Book Club is planning its first ever video-chat discussion!
We'll be hosting a small ONLINE discussion via Zoom on Tuesday, April 28 from 7-7:30 pm to discuss Founding Mothers: The Women Who Raised Our Nation, by Cokie Roberts. As you may recall, this was originally planned as the focus for our March Book Club meeting.
**To encourage discussion, we're limiting the online meeting to 10 participants.**
If you're interested in being one of those 10 participants, please RSVP to [email protected] We'll send the Zoom link (and some basic instructions) to the 10 participants no later than the day of the chat.