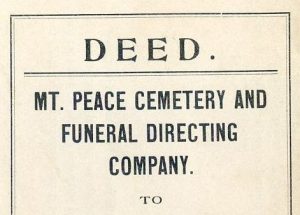 The Historical Society of Haddonfield's Archives Center and Research Library includes a collection of records from Mount Peace Cemetery in Lawnside, NJ.
These records were collected by Bryson Armstead in the 2000s as he worked to document the long history of the cemetery. He connected with families who had long associations with Mt. Peace and located the burial register for 1937-1959, select monthly reports of the boards of directors from 1931-1933 and 1935, and more.
All of these items are available for researcher use at the Archives Center during public hours. The name of the collection is the Bryson Armstead Collection on Mt. Peace Cemetery (collection # 2004-011).
Search Burial Records
To further improve access to these records, the Society compiled all of the burial data from both the register and the monthly reports into a digital database. You can download this data in the following formats:
Excel file – sorted alphabetically by surname / Access database  /  CSV file