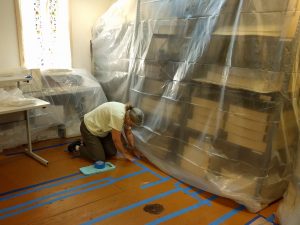 Unfortunately, due to construction, we're not quite ready to re-open the Archives Center and Research Library to researchers.
We will reopen the Archives Center to the public on Tuesday October 4 for our usual hours, 9:30-11:30 am. (Greenfield Hall will resume its public hours in September.)
As you may know, we spent the end of the summer preparing for some necessary repairs and improvements to the Mickle House, which required sealing up our collection storage spaces to protect materials from dust. Since construction has not yet concluded, we need to keep everything sealed up for a few more weeks.
If you have research questions in the meantime, please feel free to contact our archivist Dana Dorman at [email protected] or 856-429-7375 and we'll do our best to assist you. See you in October!