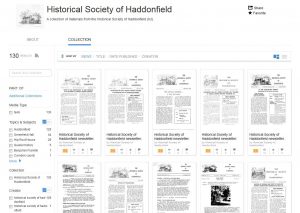 The Society is now providing free, searchable, online access to 50+ years of our Bulletin newsletters via the Internet Archive:
archive.org/details/haddonfieldhistory
Thanks to the diligent work of a volunteer in the Society's Archives Center and Research Library, readers can now read issues from 1958-2011 online. (Newer issues are still for members only.)
You can browse images of the pages, search full-text versions of the articles, or follow subject tags to find other related content. Happy reading!