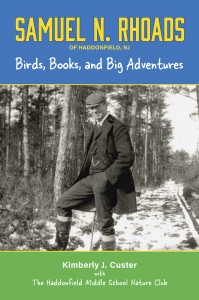 The Historical Society of Haddonfield is proud to announce the publication of a new children's book: Samuel N. Rhoads of Haddonfield, NJ: Birds, Books and Big Adventures.
Books will be available for $12 beginning on Monday April 18, 2016.
We're offering a special sale price of $10 per copy at the Book Release Party, Sunday April 17, 2016, 2-4 pm at the auditorium of the Haddonfield Friends Meeting, 45 Friends Avenue, Haddonfield.
Starting Monday April 18, you can buy the book by dropping by the Historical Society office, 343 Kings Highway East, during our open hours (Mondays, Wednesdays and Fridays 1-4 pm) or via our Amazon.com shop.
You can also get copies at Inkwood Books or Harrisons of Haddonfield.
The book is the culmination of a three-year project by the Haddonfield Middle School Nature Club to investigate the life of Samuel Rhoads (1862-1952), a local naturalist and historian. The Nature Club began its study of Rhoads at the suggestion of Kim Custer, a volunteer at the Historical Society who had herself been researching Rhoads' life and how his childhood in Haddonfield influenced his love of nature. Among his many interests, Rhoads was a founder of the Delaware Valley Ornithological Society and collected thousands of specimens in the U.S. and in South America for the Academy of Natural Sciences of Drexel University.
"I thought Samuel would be a wonderful role model for the students," said Custer, a classroom aide for the Haddonfield Public Schools. "They were thrilled to hear that he was only 12 when he donated his first specimen, a bird from Haddonfield, to the Academy. And we were all fascinated to be able to read his own field notes and personal papers held at the Historical Society's Archives Center."
Custer eventually suggested that the club write a biography of Rhoads that could be used in Haddonfield schools' social studies curriculum. Under the direction of Custer and Nature Club advisor Robin Walters, sixteen students wrote text, created illustrations, and selected historical images and documents to include in the biography. The book's authors include Custer, Walters, and Nature Club members Patrick Ainsworth, Julia Chin, Helen Chung, Claire Custer, Philip Edmonston, Rachel D'Emelia, Chloe Lin, Zoe Murray, Natalie Naticchia, Sarah Naticchia, Banks Sapnar, Miles Schroeder, Evelyn Sky, Nina Tan, Mark Vaughn and Claudia Watson.
Save
Save